The goal of the Most Wanted Fine Art Stock Class is to open the sport to people who usually aren't exposed to demolition derbies or have barriers to access. With the MWFA Stock Class rules any car from 1980 or after can participate in the derby. Created by Jason Sauer, the hope for the future is that major metropolitan cities all over America adopt the program and give access to demolition derby to the inner-city. Below are MWFA Stock Class dates across the nation!
*Jason Sauer will be in attendance at any derby with an *
*Sat April 1, Yuba City CA, Spring Extreme, Williams Ent LLC – TrackShotLive
*Sunday April 16, Dunbar PA, No Mercy 3, Deadman Derby Productions
*Sat May 6, Henry IL, River City Rampage , Toast Promotion
Sat May 6, Hughesville PA, Judgement Day, Bent Metal MotorSports
Sat June 10, Merced CA , Merced County Fair, Crunch Motorsports
Sat June 10, Spartansburg PA, Fathers Day Fury, Makin' Junk Productions
Sat June 17, Shelby Co Fair, Shelbyville IN, Toast Promotions
Sat Jun 24, Columbus IN, Bartholomew County Fair , Toast Promotion
Sat June 24, Walhalla ND , Walhalla Demolition Derby Association
*Sat July 1, New Alexandria PA, Iron City Nationals , Iron City Promotions
Sat July 1, Burford Ontario, Billy Bash, I Am Demolition
Sat July 1, Columbus IN, Bartholomew County Fair , Toast Promotion
Sat. July 1, Cattargus, NY Dooms-Day Derby in the Valley, HEAD-on Derby Promotion
Sat July 8, Lawrence Co Fair, Bedford IN, Toast Promotions
Sat July 15, Bloomfield IN, Greene County 4-h fair, Toast Promotion
Sat July 22, Franklin IN, Johnson county fair , Toast Promotion
*Wed July 26, Hamilton OH, Butler County Fair, Rutz Fabrication
Sat Aug 5, Gallipolis Ohio, Gallia County Fair, 333 Derby Promotions
Sat Aug 12, New Richmond WI, Badger State Beatdown,Cedar Lake Speedway 715 Motorsports & Promotions -TrackShotLive
Sat Aug 12 Farmington MN, Dakota County Fair , Track Strong Promotion
Sat/Sun Aug 19-20, IN State Fair, Indianapolis IN, Toast Promotions
*Sun Sept 3, Stoneboro PA, Great Stoneboro Fair, Hardcore Derby Promotion – TrackShotLive
Sat + Sun Sept 9 -10th Mike Gilbert Jr Memorial Scholarship Demolition Derby, Skowhegan Maine, Get R Done Raceway
Sat Sept 16, Dunkirk NY, Lake Erie Rumble, WNY Derbies
Sat Sept 23, Bartholomew Co Fall Clean Up, Columbus IN, Toast Promotions
*Sat Sept 30 San Filippo Smash , Morris NY Spinning Wheels Productions
*Sat Oct 7 Farmington MN, Minnesota Throwdown , Track Strong Promotion-TrackShotLive
*Sun Oct 29, track TBA, Buried Alive 4, Deadman Derby Productions -TrackShotLive
MWFA STOCK CLASS RULES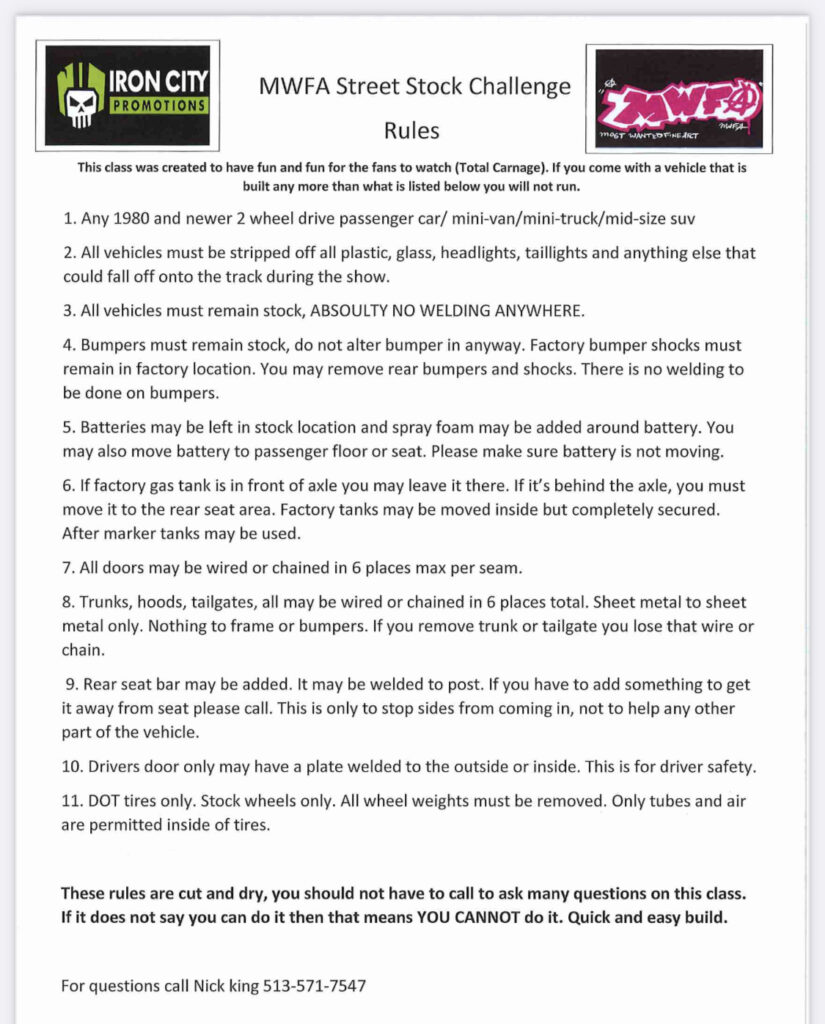 About Jason Sauer
Jason Sauer is a decorated army veteran, sculptor, skilled auto mechanic, and licensed building contractor who brings a unique set of refined technical skills, tradesmanship, and lived experiences to how and on what surfaces he creates. Jason is nationally known for his unique application of the demolition derby as folk art, driven by his lifelong fascination and participation in the Appalachian folk derby tradition. In Pittsburgh, Jason is revered as an early pioneer in the creation of the Penn Avenue Arts and Commercial District, a once blighted corridor that is now one of the most vibrant and diverse arts and culture destinations in Pittsburgh. There, he co-founded Most Wanted Fine Art (MWFA), a multi-use art gallery, performance studio, and workforce development hub that has hosted hundreds of makers, performers, justice-involved youth, and resident artists from all over the world.