Printmaking with kids in Ogden, smashing cars in Salt Lake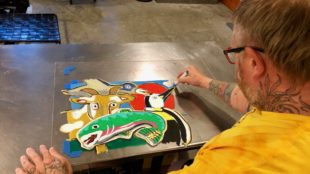 Jason Sauer will be creating Art in the Salt Lake City /Ogden area.
Jason will be making art on
Wednesday-Thursday July 24-25th
At the (action youth)
Jason Sauer will be demonstrating the art of silk screen printmaking. He will having the students "pull" their own prints. They will be making cards that can be colored once dried and then take home. The image that the students will be printing will be of a demolition derby car. Which reinforces Jason's other painting projects, that he is doing whilst in Utah. Jason will be demonstrating the art of murals and describing the cultural importance of creating a public space artwork.
July 26-27
Jason will be spray painting demolition derby cars at the (wasatch wipeout Stirrin Dirt link)
Plus he will be signing his #JasonSauerArtBook