See Sauer's Unicorn Bike at #Openstreetspgh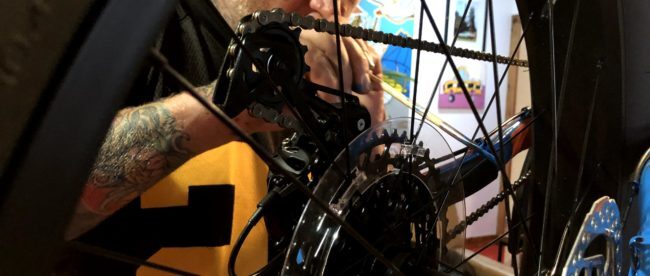 Jason Sauer was chosen as an artist for another Unicorn Bike! Pittsburgh Ride Share's custom-design fleet of limited-edition Healthy Ride bikes.

PPG Paints is an awesome partner on the Art
Bike

project. Most

bike

share programs have to result to wrapping

bikes

in decals, but PPG allows us to use their vehicle-grade 1 Shot paint to create rolling pieces of unique, public art.
UPCOMING:
Art Bikes Launch Event: I wanted to give everyone ample notice that we plan to launch the Art Bikes fleet at the next
Open
Streets
PGH event on Sunday, June 30. Please mark your calendars and save the date.
What is OpenStreetsPGH?
OpenStreetsPGH is inspired by the open streets movement – a global phenomenon promoting healthy outdoor activity and community engagement using city streets.
OpenStreetPGH temporarily closes streets to car traffic and invites Pittsburghers to reimagine their streets as places for people. This free event series connects communities to each other and creates a safe place for people of all ages to walk, bike, roll, and dance through 11 neighborhoods in 2019.
Save the dates for our 2019 OpenStreetsPGH series on May 25th, June 30th, and July 28th! OpenStreetsPGH offers something for everyone, from fitness workshops, to kids activities, shopping, brunch, community arts, and special promotions presented by over 100 local businesses and organizations.
https://openstreetspgh.org/about/