Top Sales for Jason Sauer during Art Basel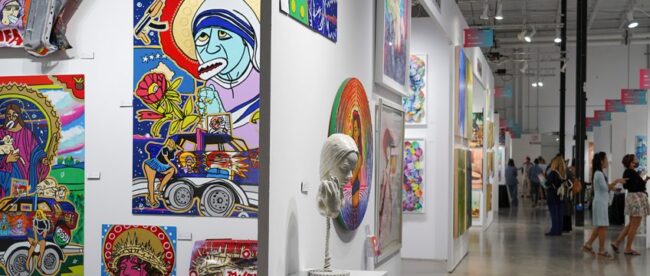 Jason Sauer and the MWFA booth received top sales at SPECTRUM MIAMI 2022
The five-day fine art experience ran from Opening Night on December 1 through Sunday, December 5 — and was full of non-stop events and happenings.
Spectrum Miami exhibitors were pleased to see so many collectors, and the number of sales and commissions reported throughout the show this year was impressive, as were the gallery placements by [SOLO] artists. Here is a sampling of highlights from this year's exhibitor sales:
Renssen Art Gallery definitely made people take a second look and got the fair off to a great start with their Opening Night sale of a Picasso original and subsequent sales of 14 other works.
Artblend had an impressive booth and reported substantial sales, including Doug Powell's iconic keyboard art Picasso. I Do Not Seek, I Find placed at $24,500, artist Jason Sauer's sold out work, multiple artist sales, plus reports of multiple after-fair sales.
It was pleasure to host Paris gallery Mecenavie once again and see their sales success with multiple artists, including Elka Peradze, Heather Lynn, Dubure Richard, and others.
Artist Charles Fazzino's 3-D Pop Art was a hit with multiple sales, including Star of Unity, Perfectly Palm Beach, Money, and several others.
Karin Brauns new prints of her popular Heartbeats of the Wild Collection were a big success, selling 12+ pieces, along with several of her originals.
[SOLO] artist Vicky Dreams was pleased to place her Dandelion and Marilyn works with collectors.
Kevin Grass' Lame Ducks Collection drew lots of attention and both Lame Ducks and What the Duck? are now in private collections.