DREW x SAUER art in Palm Desert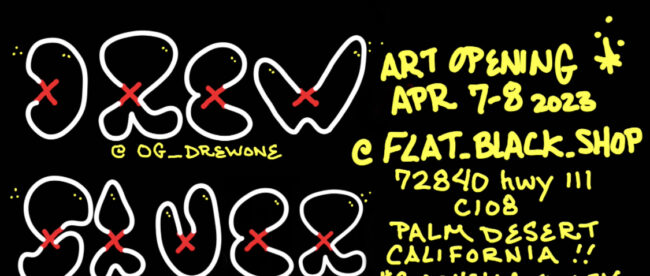 DREW x SAUER
Art opening April 7-8 2023
– Flat Black Gallery
Flat Black art supplies
4117 72840, CA-111 #c108, Palm Desert, CA 92260
(760) 565-1632
@flat_black_shop
Join Drew, the legendary graffiti artist from Los Angeles and demolition derby artist Jason Sauer of Pittsburgh for a once in a lifetime exhibit in Palm Desert CA. This is the first exhibit in Drew's 40 year art career. 
About Jason Sauer
Jason Sauer is a decorated army veteran, sculptor, skilled auto mechanic, and licensed building contractor who brings a unique set of refined technical skills, tradesmanship, and lived experiences to how and on what surfaces he creates. Jason is nationally known for his unique application of the demolition derby as folk art, driven by his lifelong fascination and participation in the Appalachian folk derby tradition. In Pittsburgh, Jason is revered as an early pioneer in the creation of the Penn Avenue Arts and Commercial District, a once blighted corridor that is now one of the most vibrant and diverse arts and culture destinations in Pittsburgh. There, he co-founded Most Wanted Fine Art (MWFA), a multi-use art gallery, performance studio, and workforce development hub that has hosted hundreds of makers, performers, justice-involved youth, and resident artists from all over the world. Jason Sauer and Most Wanted Fine Art have been honored as a "40 under 40" by Pittsburgh magazine, "Community Development Award" from Pittsburgh Community Reinvestment Group, "Power of Work Award" from Goodwill of Southwestern PA, and "Best Art Gallery for Local Artists" 2014-2017 by Pittsburgh City Paper readers.
About Drew
​​Drew is a veteran graffiti artist hailing Los Angeles. Drew works with at-risk youth and adults to keep them physically sober one day at a time. This is his first art exhibit in his 40 year professional art career.